Scandinavian Meatballs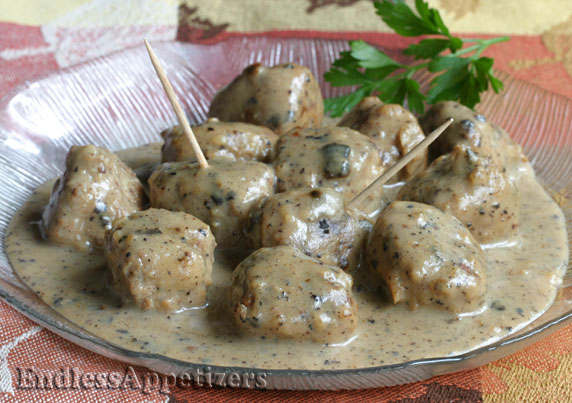 Yield:
About 40 1-inch meatballs
Cook Time:
About 30 minutes
Tips:
Meatballs can also be made with 1/2 ground beef combined with 1/2 ground turkey or chicken, or with 100% ground beef, pork, turkey or chicken. When choosing ground beef, selections with low fat content are recommended.
Suggestion:
Serve as an appetizer or a main course over pasta or rice.
When it comes to great appetizer ideas for parties, cocktail meatballs are the perfect solution. After all, who can resist hot, flavorful bite-size meatballs, especially when they're served with a tasty savory sauce?! These Scandinavian Meatballs are amazingly easy to prepare, and the sauce is even easier. For convenience, the meatball mixture can be prepared in advance, then stored in the fridge for 1-2 days until you're ready to cook the meatballs.
These meatballs feature a combination of ground beef and ground pork, though if desired, you can substitute any other type of ground meat
you prefer (such as chicken or turkey), and can make them with 100% of one type of ground meat. When selecting ground beef, it's best to go with a leaner selection, as this will produce a more quality texture to the meatballs.
The sauce for these meatballs is incredibly easy to make, and is whipped up at the last minute after cooking the meatballs. To make the sauce, the cooked meatballs are dusted lightly with flour, then placed back into the skillet. Some milk is added to the skillet, and as you roll the meatballs around in the milk, the flour helps to form a thickened savory sauce that grabs some of that great meatball flavor from the bits and pieces left behind on the bottom of the skillet after cooking the meatballs. You can adjust the amount of milk you add to create the perfect sauce consistency - just keep adding a little at a time until you find that perfect balance.
If you'd rather not wait to throw a party to try these Scandinavian Meatballs, they can also be served as a main course over pasta or rice!
Ingredients
Meatballs

1/2 cup soft bread crumbs
3/4 cup milk, divided
1/2 lb. ground beef
1/2 lb. ground pork
1 egg
1 teaspoon salt
1/4 teaspoon black pepper
dash allspice
1/2 cup finely chopped onion
3 tablespoons butter, divided



Sauce

flour (as needed)
2 tablespoons butter
salt and pepper to taste
Directions
Meatballs
In a medium
mixing bowl
, add 1/2 cup of the milk to the bread crumbs and soak for about 10 minutes. While bread crumbs are soaking, melt 1 tablespoon of the butter in a skillet, then add chopped onion. Cook onion over low-medium heat just until tender (7-10 minutes), stirring frequently.
To the soaked bread crumbs add cooked onion, ground beef, ground pork, egg, salt, pepper and allspice. Mix together (by hand or with an electric mixer on slow speed), then add the remaining 1/4 cup milk and mix again until fully blended. Cover bowl with plastic wrap and chill in refrigerator until mixture is firm enough to form into meatballs (1 hour to overnight).
When ready to cook meatballs, heat remaining 2 tablespoons butter in a large skillet. Once butter has melted, add meatballs, one batch at a time (up to 20) to the skillet, allowing enough room for meatballs to move around while cooking. Cook meatballs over medium heat until thoroughly cooked (about 10 minutes), turning as needed to brown on all sides. When meatballs are cooked through, transfer cooked meatballs to a plate and cover with aluminum foil to keep warm. Repeat process with remaining meatballs.
Sauce
Once all meatballs have been cooked, drain fat from skillet (leave bits and pieces on the bottom of the skillet). Place about 1/2 cup flour in a shallow bowl and roll cooked meatballs around (a few at a time) in flour until lightly coated. Transfer all flour-coated meatballs back into skillet. Add milk and gently move meatballs around to allow flour to incorporate with milk (this will thicken the sauce). If sauce appears too thick, add a little more milk and stir again until desired consistency is achieved. Salt and pepper to taste. Serve immediately with toothpicks on the side (or if making as a main course, serve over pasta or rice).
Other recipes you might like: