Crostini Appetizers
Crostini (also sometimes referred to as bruschetta, or canapés when made into small bite-size servings) is fabulous served as an appetizer, because it can be adorned with an endless variety of toppings, adding color, festive flavor and variety to your party, holiday gathering or other social event. Crostini and bruschetta always make easy finger food appetizers, because once the bread slices are toasted, preparing the crostini or bruschetta is just a matter of mixing a few ingredients and spooning small amounts on top of the little toasts (and in some cases, quick broiling might be needed to melt cheese toppings). Crostini and bruschetta are Italian in origin, traditionally featuring small slices of toasted bread that are rubbed with garlic and drizzled with olive oil, then topped with any variety of ingredients, such as chopped tomatoes or other
vegetables, beans, cured meats or cheese. Bruschetta and crostini recipes can become much more creative than that, however, simply by topping the toasted bread slices with any number of toppings that might spark your imagination. The possibilities are endless!
The first step in preparing crostini or bruschetta is choosing the right loaf of bread. Typically, when crostini and bruschetta are served as party appetizers, the goal is to make a large amount of small bite-size appetizers. For this purpose, choosing a long, narrow baguette loaf (about 2 to 3 inches in diameter) is the way to go. Baguettes can vary slightly in length and width, though all will produce excellent results. Baguettes are also usually very inexpensive, which will allow to you produce enough appetizers for a small crowd at a very reasonable cost. Ciabatta bread, also Italian in origin, can also be used, and is more commonly used with bruschetta recipes, though can also be used with crostini. Ciabatta has a great chewy, firm texture with attractive air pockets throughout, but will likely be thicker in diameter than baguettes, so will result in larger individual servings. Tip: Slicing the bread slices at a slight diagonal will not only allow you to control the size of the crostini and bruschetta servings (the larger the angle, the longer each slice of bread will be), it will give your crostini appetizers attractive eye appeal.
Crostini and Bruschetta Recipes ▼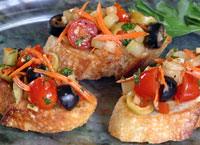 Olive and Tomato Bruschetta
is a colorful and healthy crost ini appetizer recipe featuring halved grape tomatoes, sliced green and black olives, diced celery and onion, julienned carrot and finely chopped parsley, all tossed together with olive oil and balsamic vinegar, then seasoned to taste with salt and pepper. This mixture is spooned onto your choice of grilled or broiled slices of baguette style bread.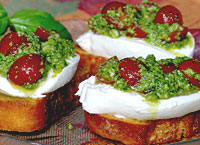 Looking for new delicious appetizer ideas? This crostini appetizer recipe is healthy and delicious, is loaded with vibrant color and presents itself with true elegance.
Pesto Cheese Crostini with Cherry Tomatoes
features slices of baguette that have been brushed with olive oil and baked until lightly crispy. These baked crostini are topped with Burrata (or other cheese of your choice) and a delicious basil pesto and cherry tomato mixture.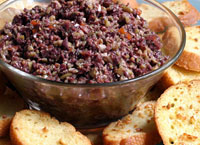 This recipe for
Tapenade
(also sometimes called
Olive Tapenade
) combines a mixture of kalamata olives (Greek olives), green olives, garlic, capers and olive oil (fresh thyme and/or anchovies may also be added if desired, though are entirely optional). This tapenade is full of robust and distinctive flavor, and tastes fabulous with baked crostini (shown in photo), pita chips, crackers, thin slices of crusty bread or crudités (fresh vegetables).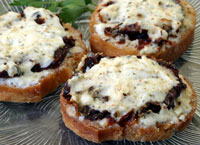 This tasty
crostini recipe
features thin slices of bread that are brushed with olive oil and baked until golden and crispy. The small toasts are then topped with a mixture of three cheeses combined with minced garlic. Sun-dried tomatoes are placed on top of the cheese mixture, then another layer of cheese mixture is placed on top of the sun-dried tomatoes. The crostini are returned to the oven to briefly bake again until melted.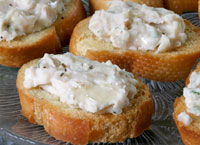 The beauty of this
White Bean Bruschetta recipe
is its simplicity, which appeals to both kids and adults. This bruschetta recipe features small slices of a baguette or ciabatta loaf topped with a puréed mixture of white beans, fresh rosemary, olive oil and seasonings. This recipe is as inexpensive as it is easy, and will feed a small crowd. With just a single baguette or ciabatta loaf and a can of any type of white beans, you're set!