White Bean Bruschetta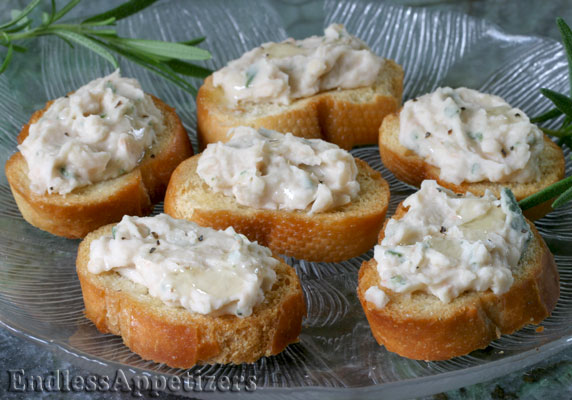 Yield:
18-25 appetizers, depending on width and length of bread loaf used
Tips:
Drizzling a little olive oil over the tops of each serving will add moisture and sheen, though is optional.
Suggestion:
Serve as easy finger food appetizers for parties, holidays, events and anytime snacking.
When it comes to easy finger foods, bruschetta recipes (also often referred to as crostini or canapés) are always a great way to light up a party. They're fun and easy, and can be decorated with an endless variety of festive toppings.
The beauty of this White Bean Bruschetta recipe is its simplicity, which not only makes this finger food appetizer recipe so easy to make, it appeals to both kids and adults. This easy bruschetta recipe features small slices of a baguette (a long, narrow loaf of bread about 2-3 inches in width) or a ciabatta loaf (a wider and chewier Italian bread with delightful air pockets throughout) topped with a puréed mixture of white beans, fresh rosemary, olive oil and seasonings. To prepare this bruschetta topping, these ingredients are quickly processed to a smooth consistency in a
food processor
for just 30 seconds. Simply season to taste with salt and pepper, and the mixture is ready to spread onto the toast slices. This bruschetta recipe is also as inexpensive as it is easy, and will easily feed a small crowd. With just a single baguette or ciabatta loaf, a can of any type of white beans, and some fresh rosemary, you're all set!
Ingredients
1 ciabatta loaf or 1 baguette



White Bean Puree Topping

1 cup canned white beans, drained
1 teaspoon fresh rosemary
2 tablespoons extra virgin olive oil
kosher salt
freshly ground black pepper
Directions
Preheat oven to 400° F.
Using a bread knife, slice each ciabatta roll vertically into 8 1/8-inch-slices and place on a baking sheet. Bake for 5-8 minutes, or until edges turn golden brown. Remove from oven and transfer to a wire rack to allow to cool.
In a
food processor
, combine beans, rosemary and olive oil. Blend for about 30 seconds or until bean mixture has a smooth consistency. Season to taste with salt and pepper. Spread onto toasted bread slices (about 2 to 4 teaspoons, depending on size of bread slices). If desired, drizzle a little olive oil over the tops of each slice. Serve.
Other recipes you might like: