Chicken Appetizers
When it comes to food preparation, one of the most frequently used meats is chicken,
perhaps because of it's versatility and flavor, not to mention its reasonable cost. It is no wonder that chicken appetizers will always be a big hit at parties, holidays and other events. Of course, chicken appetizers are also great anytime as quick protein snacks. Chicken appetizers can be cooked on the outdoor or indoor grill, on the stove or in your oven, and can be marinated, breaded, or ground up in your food processor with other ingredients and made into flavorful meatballs or fillings for pasta dishes, such as
Chicken Koftas
and
Chicken Pot Stickers
(shown below). Because of my appreciation of chicken, this Chicken Appetizers page is destined to continue to grow with more great chicken appetizer recipes.
Chicken Appetizer Recipes ▼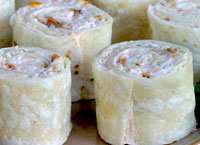 These
Southwest Chicken and Bacon Wraps
(also called "roll ups") are super easy to make and have a fun and festive flavor that pleases all ages! Making these chicken and bacon wraps is a simple matter of mixing the ingredients (cream cheese, salsa, bacon and canned chicken breast) in a bowl, then spreading it onto some flour tortillas. Roll them up, stick them in the fridge until you're ready to serve them, then slice and serve!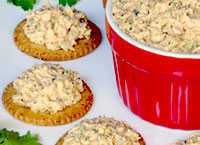 Southwest Chicken Spread
is perfect served as a finger food appetizer or as a fun protein snack anytime. It's also very easy to make, because the ingredients are quickly processed in your
food processor
, which means no manual chopping, slicing or dicing! This tasty chicken appetizer is made with chicken breast, jalapeno peppers, cilantro, freshly squeezed lime juice, cayenne pepper, paprika, sour cream and heavy cream.