Chicken Appetizers
When it comes to food preparation, one of the most frequently used meats is chicken,
perhaps because of it's versatility and flavor, not to mention its reasonable cost. It is no wonder that chicken appetizers will always be a big hit at parties, holidays and other events. Of course, chicken appetizers are also great anytime as quick protein snacks. Chicken appetizers can be cooked on the outdoor or indoor grill, on the stove or in your oven, and can be marinated, breaded, or ground up in your food processor with other ingredients and made into flavorful meatballs or fillings for pasta dishes, such as
Chicken Koftas
and
Chicken Pot Stickers
(shown below). Because of my appreciation of chicken, this Chicken Appetizers page is destined to continue to grow with more great chicken appetizer recipes.
Chicken Appetizer Recipes ▼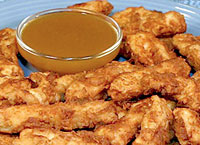 Chicken Strips with Honey Mustard Sauce
is a quick and easy dish loved by all ages. Little strips of chicken breast are coated with a seasoned flour mixture, then fried to a golden brown. A honey mustard dipping sauce made with a simple combination of honey and Dijon mustard is served with the chicken, making this finger food not only tasty, but fun! This dish is great for parties, gatherings and potlucks as a main dish or hot appetizer.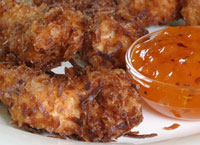 Coconut Crusted Chicken with Apricot Dipping Sauce
features small strips of chicken breast that are lightly coated with corn starch, dipped in frothy egg whites, then rolled in flaked sweetened coconut and fried until golden and crispy. The crispy coconut coated chicken strips are served with a mildly spicy apricot dipping sauce made with apricot preserves, red pepper flakes and red wine vinegar.
Curry Chicken Cheese Puffs
are tasty hearty puffs made made with diced chunks of chicken breast (diced turkey may also be used), shredded cheddar cheese and diced roasted red peppers (or diced fresh green bell pepper, if desired). These puffs are seasoned with curry powder for a unique flavor boost, though if desired, this seasoning can be omitted. These chicken cheese puffs are a great snack for all ages!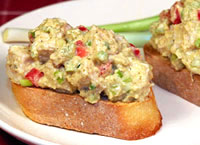 Hummus Chicken Salad
is wonderful on
crispy Baked Crostini
or soft mini slices of bread, and a wonderful twist to the traditional chicken salad. This
chicken salad recipe
is made with hummus rather than mayonnaise, giving it light and refreshing taste as well as healthful benefits. Diced celery, green onions and red bell pepper are also added into the mix, providing a fresh and tasty crunch!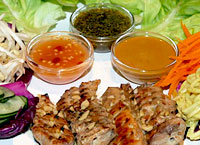 This healthy and delicious
Lettuce Wraps recipe
features Satay-marinated grilled chicken breast topped with chopped peanuts, served with sweet and sour cucumbers, bean carrots and Coconut Curry Noodles. Nutter lettuce leaves are served on the side and used for wrapping around these wonderful ingredients. Served with 3 dipping sauces: Sweet Red Chili with Garlic Sauce, Red Chili with Cilantro Sauce and Spicy Peanut Sauce.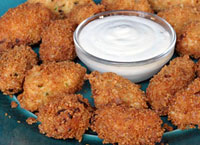 This
Panko Chicken Nuggets recipe
offers a pleasant change from traditional chicken nuggets. Rather than using solid pieces of chicken, this recipe combines small shredded pieces of chicken with other ingredients, giving them added flavor and a wonderful texture. The ingredients are formed (much like meatballs) into bite-size oblong shapes, dipped in egg, then coated with panko bread crumbs, giving them a crispy outer crust.