Roasted Red Pepper Dip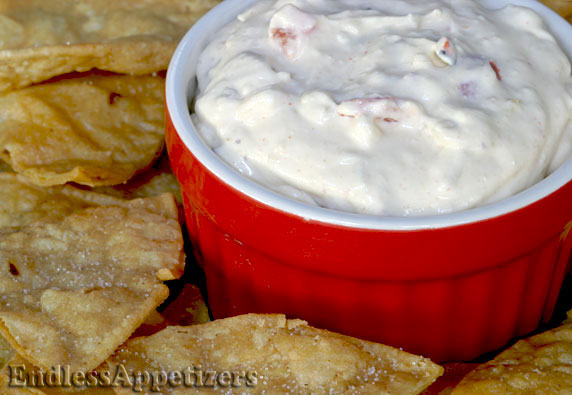 Tips:
1 cup of mayonnaise may be used instead of cream cheese, if desired.
Suggestion:
Delicious served with fresh vegetables or tortilla, corn or potato chips.
It's always great to add another dip recipe to our collection. Sometimes we might want to serve chips, crackers or fresh vegetables with a variety of dips. Roasted Red Pepper Dip is an easy dip recipe that's great served with tortilla chips as shown here, or with crackers or fresh vegetables, such as carrot sticks, broccoli florets,
cauliflower, cherry tomatoes and almost any other fresh vegetable you enjoy.
This creamy dip recipe features equal portions of sour cream and mayonnaise, diced roasted red peppers, diced green chiles, lemon juice, garlic powder and a dash of cayenne to give this festive dip a little bite (the cayenne pepper is optional if you prefer less spice). If preferred, this dip can be made with 8 oz. cream cheese instead of the mayonnaise. This will produce a somewhat thicker texture and slightly different flavor, though will still be tasty! If you do opt to make this dip with cream cheese, be sure the cheese has softened before combining it with the sour cream. Using an electric mixer (counter top or handheld) to combine the cheese and sour cream will help to rid of any cream cheese lumps. Once blended, manually stir in the diced roasted red peppers diced chiles, lemon juice and seasonings.
Ingredients
1 jar (5 oz.) roasted red peppers, drained and diced
1 4-oz. can diced green chiles, drained
1 cup (8 oz.) sour cream
8 oz. cream cheese, softened
1 tablespoon lemon juice
1/2 teaspoon garlic powder
dash cayenne pepper (optional)
salt and pepper to taste
Directions
In a medium mixing bowl, combine all ingredients until well-blended, then refrigerate until ready to serve.
Other recipes you might like: