Cream Cheese Balls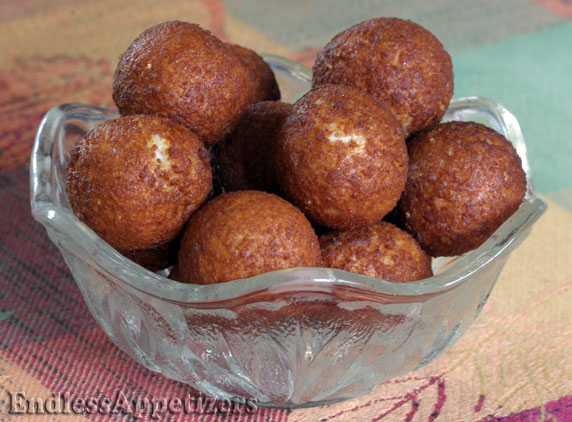 Yield:
About 24 cheese balls
Cook Time:
1-2 minutes per batch
Tips:
Cook cheese balls in batches to allow enough room in oil for cheese balls to move around while frying. If cheese balls stick to each other or side of deep fryer while frying, separate them carefully using a table knife after 20-30 seconds of cooking.
Suggestion:
Serve as a fun and easy finger food appetizer or snack.
When it comes to cheese ball recipes, most of us likely think of those hefty-sized cheese balls that are traditionally served on a plate or tray along with some crackers, vegetables or other assorted dipping foods. Cheese balls can also be made into fun and easy finger food appetizers, however, simplly by forming them into bite-size balls. Some mini cheese balls are served chilled, such as
Chili Cheese Balls
,
while other cheese ball or other mini cheese appetizer recipes might involve either baking or frying, producing a warm cheese ball with a different texture, depending on the ingredients.
Cheese Coins
, for example, are made with a cheddar cheese and flour base, and are baked, producing a flaky cheese appetizer.
These Fried Cream Cheese Balls are quickly fried in oil (for only 1 to 2 minutes), giving them golden color with a warm and delicious interior and a crispy, crunchy exterior. What holds these Cream Cheese Balls together during the frying process is the simple addition of bread crumbs and egg. The bread crumbs also give the cream cheese a nice texture as well as a crispy outer crunch when fried. These fried cheese balls taste great warm, moments after they've been fried, but also stay nice and crispy and taste just as great when cooled to room temperature. This mini cream cheese appetizer recipe is very easy to make, and has that flavor and texture that will please kids and adults.
Ingredients
8 oz. cream cheese (1 cup)
1/2 cup fine plain bread crumbs
1/4 teaspoon Worcestershire sauce
1 egg, well beaten
Directions
Heat enough oil in a deep fryer or saucepan to cover cheese balls (about 1 1/2 to 2 inches deep) to 375° F.
While oil is heating, combine cream cheese, bread crumbs, Worcestershire sauce and egg in a
mixing bowl
and stir until well-blended. Roll mixture into small balls (about 3/4 inch in diameter). Gently lower cheese balls into hot oil with a slotted metal spoon or other utensil (cook cheese balls in batches, leaving enough room in oil for cheese balls to move around). Fry until golden brown and crispy (about 1-2 minutes), then remove and place on paper towels stacked on a plate or tray. Allow to cool for about 1 minute, then serve.
Other recipes you might like: