Chicken Cheese Turnovers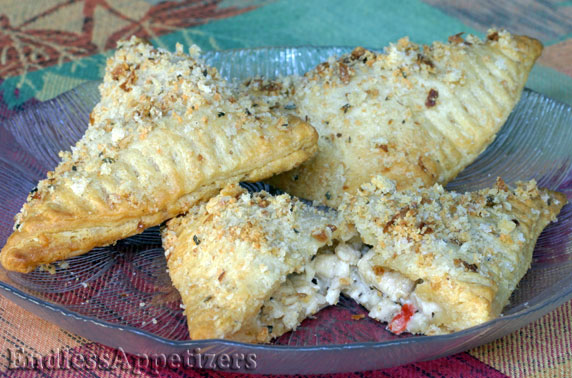 Tips:
May also be made with turkey.
These light and flaky Chicken Cheese Turnovers are filled with a delicious mixture of diced chicken (turkey may also be used, which is great
for leftover Thanksgiving turkey), cream cheese, chopped green onions and diced pimiento. Before popping into the oven, the turnovers are brushed with melted butter and topped with crumbled croutons, giving them a delightful outer crunch with added seasoning. The flaky pastry dough can be made from scratch or purchased from the store in pre-packaged form for quicker preparation.
(If you'd prefer to make the croissant dough from scratch, simply follow the
Croissants
recipe, remembering to divide the recipe ingredients by 2, because you will only need enough for about 16 turnovers). The
croutons
can also be made from scratch or purchased pre-packaged from your grocery store. The photo above shows these turnovers made with pre-packaged crescent roll dough and crumbled homemade
croutons
.
Ingredients
1 3-oz. package cream cheese
3 tablespoons butter
2 tablespoons milk
2 cups cubed cooked chicken or turkey
1/4 teaspoon salt
1/8 teaspoon pepper
1 tablespoon chopped onion
1 tablespoon chopped pimiento
2 8-oz. cans refrigerated crescent dinner rolls (or homemade dough)
1 tablespoon melted butter (and more if needed)
3/4 cup crushed croutons
Directions
Preheat oven to 350 F.
In an electric mixer bowl or using a handheld mixer, blend crean cheese, butter and milk until creamy and well-blended. Add chicken (or turkey), salt, pepper, onion and pimiento and briefly mix to combine.
If Using Pre-packaged Crescent Roll Dough
Open package, then separate crescent roll sections leaving 2 together to form rectangles. Cut rectangles into 2 squares.
If Using Homemade Croissant dough
Prepare dough as recommended on Croissants recipe, then roll out to a 1/8-inch thickness and cut into 16-20 4-inch squares.
Assembly
Place about 1 tablespoon of chicken and cheese mixture into center of each square, stretching slightly toward 2 opposing corners. Fold the other 2 corners over the mixture and lightly pinch to seal edges, forming a triangle. Using tines of a fork, gently press down all the way around on edges just firm enough to seal.
Brush tops and sides of turnoveres with melted butter, then sprinkle with crumbled croutons. Bake for 10-15 minutes or until beginning to turn golden in color.
Other recipes you might like: