Chicken Satay with Coconut Curry Sauce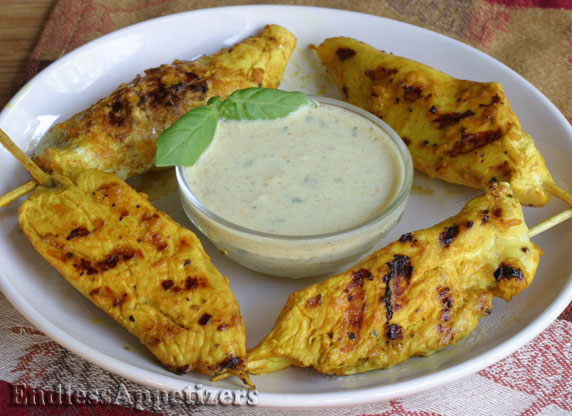 Cook Time:
About 10 minutes
Tips:
May be cooked on an indoor grill or outdoor grill. When using an indoor grill, only use the bottom grill plate. For a thicker dip, serve dip at room temperature or chilled. If you can't find Lea & Perrins Marinade for Chicken at your local grocer, any similar chicken marinade substitute can be used. Coconut cream (or coconut milk creamer) can be found near refrigerated cream and coffee creamers in grocery stores). Yellow curry paste can be found in some traditional grocery stores, or in international grocery stores.
Suggestion:
Delicious served with a
salad
.
This healthy chicken satay recipe comes with a fresh and mildly tangy dipping sauce made with coconut milk and coconut cream, along with some curry paste, fresh ginger and fish sauce, ingredients often found in Asian and Indian dishes. Chopped fresh basil and green chiles are also added, giving this sauce the perfect flavor balance that perfectly accompanies the grilled chicken strips.
What also gives this chicken satay recipe such lively flavor is the tangy and delicious marinade the chicken strips soak in for about an hour before grilling. Once the chicken breast strips have been pierced with bamboo skewers, they are marinated in a combination of tasty ingredients that have been briefly sautéed in a skillet.
After 60 minutes (or more, if desired) of marinating, the chicken strips are briefly grilled on an indoor or outdoor grill just until cooked through (about 3 minutes per side). (Tip: One of the ingredients in the marinade is
Lea & Perrins Marinade for Chicken
, which should be located where bottles of
Lea & Perrins Worcestershire Sauce
are stocked in most grocery stores (near hot sauces, ketchup, mustard, etc.). Some stores may not carry Lea & Perrins brand of chicken marinade, so you may want to give your local grocery stores a call first to see if they do. If none of your local grocery stores carry it, you can substitute with any other type of similar tangy chicken marinade.
This chicken satay recipe can be served as a main course or as an appetizer, so depending on how you'd like to serve your chicken satay (as a main course or appetizer), the chicken strips can be cut into any size you prefer, from 3 inches to 6 inches long. Don't worry about cutting perfectly shaped strips, because part of the beauty in this chicken dish is how each strip will have a look of its own! If you can't find 6-inch-long bamboo skewers, longer bamboo skewers will work just as well; or, you can easily cut them into shorter lengths using pruning shears.
When cooking the chicken strips on an indoor grill, in order to help seal in the juices and maintain the unique shapes of the chicken strips, it's recommended that you use only the bottom grill grate and turn the chicken over after 3 minutes of cooking rather than heating both the upper and lower grill grates and closing both grates over the chicken. Of course, cooking the skewered chicken strips will work great on an indoor or outdoor grill!
Ingredients
24 6-inch-long bamboo skewers (or up to 12-inch skewers)
1/4 cup salad oil
4 boneless, skinless chicken breast halves, cut into 3 to 6-inch strips, 5/8-3/4 inches thick



Chicken Satay Marinade

3 tablespoons canola or other oil
6 garlic cloves, minced
2 tablespoons minced onions
2 teaspoons turmeric
1/4 teaspoon cayenne pepper
1/4 teaspoon black pepper
1 teaspoon sea salt
1 tablespoon Lea & Perrins Marinade for Chicken (or a other similar chicken marinade)
1/2 cup freshly squeezed lemon juice



Coconut Curry Sauce

2 teaspoons canola oil
1 tablespoon Thai yellow curry paste (preferably made with coconut)
1 cup coconut cream (or coconut milk creamer)
1 tablespoon fish sauce
1 1/2 teaspoons peeled and grated ginger
1 cup coconut milk
1 teaspoon sugar
1/2 teaspoon salt
2 tablespoons canned diced green chiles
1 1/2 tablespoons chopped fresh basil leaves
Directions
Place skewers in a long, shallow container and coat with oil. Allow to soak for at least 60-90 minutes (this helps to prevent skewers from drying out and burning during grilling).
Chicken Satay Marinade
Heat oil in a skillet over medium heat. Add garlic, onions, turmeric, cayenne pepper, black pepper and salt. Reduce heat to low-medium and sauté for 2-3 minutes, stirring constantly and being careful not to burn. Remove from heat and and stir in chicken marinade and lemon juice.
Thread chicken strips onto skewers, then place in an 8x12-inch glass casserole dish. Pour marinade evenly over chicken. Cover with plastic wrap and store in refrigerator for an hour.
Coconut Curry Sauce
Heat oil over medium-high heat in a heavy saucepan. Add curry paste and cook, stirring, for about 30 seconds. Stir in coconut cream. Add fish sauce, ginger, coconut milk, sugar and salt. Bring to a boil, then stir in chiles and basil and remove from heat. Allow to cool.
Grilling the Chicken
If using an indoor grill, wipe the grill's grate with a lightly oiled paper towel. (If using an outdoor grill, brush grill with oil using a barbecue brush.) Preheat the indoor grill to medium-high, then place chicken skewers diagonally on the grill for 3 minutes. Flip the chicken skewers over and cook for an additional 2-3 minutes. (Each side will have golden-brown grill marks.)
Arrange the chicken skewers on a platter or individual serving plates and serve with a bowl of the cooled Coconut Curry Sauce.
Other recipes you might like: