Parmesan Cheese Sticks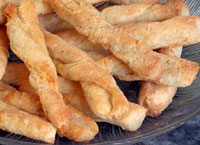 Yield:
About 90 cheese sticks
Tips:
Cheese sticks may be twisted 1-3 times
Suggestion:
Perfect served as party appetizers or for anytime snacking.
Ingredients
4 cups all-purpose flour
2 teaspoons baking powder
1 teapsoon salt
1 1/2 cups butter
2 egg yolks
2 cups milk
1 lb. grated Parmesan cheese (or Edam)
Directions
Preheat oven to 425° F.
I a medium
mixing bowl
, whisk together dry ingredients. Cut in butter using a
pastry blender
or 2 knives. Make a small well in
the center, then add eggs and milk and stir with a fork until thoroughly blended.

Roll out with a rolling pin to a 1/4-inch thick square. Sprinkle one-half of the Parmesan cheese over one-half of the dough. Fold dough in half, then press edges together and fold again. Roll dough to 1/4-inch thick again. Sprinkle with remaining cheese and proceed as before. Cut into strips 1/4 inch x 5 inches long. Bake for 8 minutes or until cheese sticks turn light golden brown in color.