Chicken Satay Meatballs with Peanut Sauce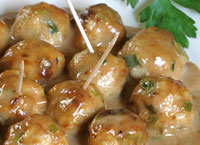 Yield:
About 32 1-inch meatballs
Tips:
Cayenne pepper may be reduced to 1/4 teaspoon, if desired.
Suggestion:
Delicious served with
toothpicks
as an appetizer, or over rice as a main course.
Ingredients
Meatballs

1 lb. boneless, skinless chicken breast
1/2 cup soft whole wheat bread crumbs
2 green onions, diced
1 clove garlic, minced
1 tablespoon soy sauce
1 egg, beaten
1/4 teaspoon salt



Peanut Sauce

1 tablespoon oil (preferably peanut oil)
2 green onions, diced
1 cup coconut milk
1/3 cup smooth peanut butter
1 tablespoon brown sugar
1 talbespoon freshly squeezed lime juice
1 tablespoon fish sauce (or soy sauce)
1/2 teaspoon rice wine vinegar
1/2 teaspoon cayenne pepper (or less, if preferred)
Directions
Preheat oven to 350° F.
Meatballs
Place bread in a
food processor
and process briefly to turn into crumbs. Transfer bread crumbs to a medium
mixing bowl
.
Place chicken breasts in
food processor
and process until evenly shredded (about 10-15 seconds). Add shredded chicken to the bowl of bread crumbs, then add diced onions, garlic, soy sauce, egg and salt and stir or mix with your hands to combine (if desired, use
disposable gloves
.
Form chicken mixture into 32 balls (about 1 inch in diameter) and place at least 1 inch apart on a
baking sheet
sprayed with nonstick cooking spray. Bake for 15-20 minutes, or until meatballs have turned light brown and appear done. While meatballs are baking, prepare sauce (recipe follows). Once meatballs have finished baking, remove from oven and transfer to a serving bowl or tray.
Peanut Sauce
In a
nonstick skillet
, heat oil over medium heat until hot. Once hot, reduce heat to low and add green onions and cook, stirring constantly, until tender (about 3 minutes), trying to avoid browning. Add coconut milk and peanut butter to onions and increase heat to medium. Stir until well combined, then add brown sugar, lime juice, fish sauce (or soy sauce), rice wine vinegar and cayenne pepper. Stir again to thoroughly combine, then reduce heat to low again and simmer until thickened (about 2-3 minutes). Add baked meatballs to sauce and gently stir to coat. Serve as an appetizer with
toothpicks
or over rice as a main course. (Tip: See recipe description for ways to keep meatballs warm while serving as appetizers.)