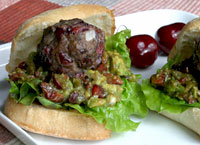 Tips:
Pitted prune plums may be used instead of cherries, if desired. Meatball mixture may be slightly flattened into patty forms, if desired. Red leaf lettuce, Romaine lettuce or Iceberg lettuce may be used. (Above photo shows sandwiches served with red leaf lettuce.)
Suggestion:
Perfect served as healthy appetizers for parties, tailgate food for sporting events, or for lunch or dinner.
Meatballs
Preheat oven to 350°F.
In a medium
mixing bowl
, combine ground beef, cherries, egg, onion, parsley, mustard, garlic salt and pepper. Mix until thoroughly combined. Form into 16 meatballs, then place on a rack in a broiler pan. (Note: Mixing with hands is the easiest and most thorough method. If desired, use
disposable gloves
) Bake for about 20 minutes, or until done, turning the meatballs after 10 minutes of baking.
Cherry Avocado Salsa
Combine all ingredients in a
mixing bowl
and stir briefly just enough to blend. (Note: Over-stirring may cause some of the green color in the avocado to turn dark from the cherry juices.)
Assembly
Gently toss hot meatballs with 1/2 cup of salsa, if desired (this is optional). Place 1 small lettuce leaf on each roll, top lettuce with some Cherry Avocado Salsa, then place one meatball on top of salsa. Serve remaining salsa on the side, if desired.