Cheddar Cheese Sticks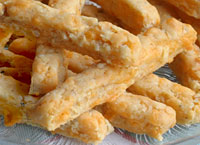 Yield:
About 26 cheese sticks
Cook Time:
About 20 minutes
Tips:
Cheddar cheese or other preferred cheese may be used.
Suggestion:
Serve on their own or with some
ranch dip
on the side.
Ingredients
2 tablespoons butter, softened
2/3 cup flour
1 cup fresh bread crumbs
1 cup grated cheddar cheese
1/4 teaspoon salt
1/8 teaspoon white pepper
pinch of cayenne
2 tablespoons milk
Directions
Preheat oven to 325° F.
To a medium
mixing bowl
, combine butter, flour, bread crumbs,
cheese and seasonings. Mix thoroughly with a fork. Once fully blended, add milk and stir again until fully blended. Roll out to a 3-inch-wide by 1/4-inch thick rectangle. Cut shortest width of rectangle into 1/4-inch-thick by 3-inch-long inch strips.

Bake for 15-20 minutes or until cheese sticks turn to a golden brown.