Blue Cheese Deviled Eggs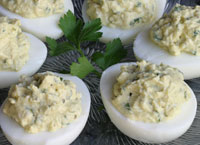 Cook Time:
15-20 minutes for hard boiling eggs
Tips:
If a more mild cheese flavor is desired, blue cheese can be reduced by half, while also reducing whipping cream to 1 tablespoon.
Suggestion:
Serve as an egg appetizer for parties, holidays and other social events or with brunch.
Ingredients
6 hard-cooked eggs
1/4 cup crumbled blue cheese
2 tablespoons mayonnaise
2 tablespoons whipping cream
1 tablespoon minced parsley
1/4 teaspoon salt
1/8 teaspoon black pepper
1/4 teaspoon celery salt
1 tablespoon tarragon vinegar
Directions
Peel shells off hard cooked eggs, then carefully cut in halves lengthwise. Remove yolks and place in a
mixing bowl
. Smash yolks until well-broken up, then add blue cheese, mayonnaise, whipping cream, parsley, vinegar and celery salt. Mix until well-blended, then add salt and pepper to taste. Spoon equal
amounts of yolk and blue cheese mixture into egg white halves. Serve immediately or chill in an air-tight container in refrigerator until ready to serve.