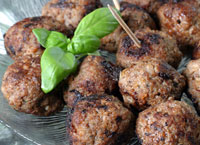 Yield:
16-20 meatball appetizers
Cook Time:
About 10 minutes per batch.
Tips:
Meatballs may be made with a combination of ground beef and ground pork or ground turkey, or with 100% ground beef or ground turkey.
Suggestion:
If serving as party food, these meatballs are best served with
Marinara Sauce
for dipping (or serve the meatballs already immersed into the sauce), or simmered with pasta sauce over spaghetti or fettuccine noodles as a main course.
Combine cream and water in a small
mixing bowl
, then add the crumbs. Mix until the crumbs are moistened. Combine the basil, cayenne pepper, garlic powder, salt, beef, pork and onion in a larger
mixing bowl
and mix thoroughly with hands (Note:
Disposable gloves
can be used if you'd prefer to keep your hands clean.) Add the crumb mixture to the meat mixture and mix
again until well blended. Shape into 1-inch balls, then sauteé in a small amount of butter in a large
skillet
until browned on all sides. (Tip: Shake the skillet occasionally to help the meatballs retain a round shape. Serve alone or with
Marinara Sauce
, if desired. May be served in a
warming or chaffing dish
, if desired.