Bacon Wrapped Water Chestnuts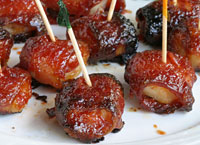 Yield:
8-10 servings, or about 45 pieces
Tips:
Basic wooden toothpicks without decorations should be used when baking because of hot oven temperatures. If some toothpicks were overly covered with sauce, if desired, those toothpicks can be removed and replaced with new toothpicks (including decorative) after baking, though make sure to poke new toothpicks into a new location in the water chestnuts so toothpicks will hold tightly.
Suggestion:
Serve as an appetizer for parties or for a fun snack anytime.
Ingredients
Sweet and Sour Sauce

1 1/2 cups ketchup
2/3 cup granulated sugar
2 tablespoons lemon juice (about 1/2 of a medium-sized lemon)
1 tablespoon soy sauce



Water Chestnuts

1 lb. bacon
2 8-oz. cans whole water chestnuts
Directions
Sweet and Sour Sauce
In a
mixing bowl
, combine ketchup, sugar, lemon juice and soy sauce. Set aside until ready to use.
Water Chestnuts
Preheat oven to 350°F.
Cut bacon strips into thirds. Wrap 1 piece of bacon around each water chestnut and place seam side down on a baking sheet at least 1/2 inch apart. Secure the bacon and chestnuts with toothpicks. Bake for 30 minutes (do not over cook!) Remove from oven and drain bacon grease off of baking sheet.
(Tip: Water chestnuts will likely stick to baking sheet while slightly tilting to drain grease.)

Spoon Sweet and Sour Sauce over baked bacon wrapped water chestnuts, being careful to avoid toothpicks. Bake for an additional 30-45 minutes or until crispy and brown around some of the edges. Using a thin metal spatula, transfer Bacon Wrapped Water Chestnuts to a serving tray and serve immediately while hot.