Turkey Artichoke Cheese Dip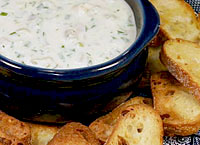 Cook Time:
About 5-7 minutes
Tips:
May be made in advance and stored in the refrigerator until ready to serve.
Suggestion:
Delicious served with untoasted miniature slices of Italian, French or sourdough bread or Baked Crostini.
Ingredients
1/4 cup diced green onion (white and green parts)
1 tablespoon butter
1 cup milk
8 oz. package cream cheese, cubed
2 1/2-oz. package sliced turkey (smoked is best), diced
1/2 cup diced marinated artichoke hearts
1/2 cup grated Parmesan cheese
2 tablespoons finely chopped fresh flat leaf parsley
Directions
Sauté green onion in butter until tender (about 2-3 minutes). Reduce heat to low and add milk and cream cheese, stirring until melted. Add remaining ingredients and stir to combine until thoroughly blended and heated through. Serve with miniature Italian, French or sourdough bread slices or
Baked Crostini
.