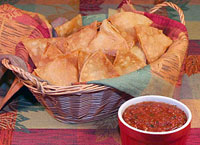 Yield:
10-14 servings (about 4 cups salsa)
Cook Time:
1-2 minutes per skillet load
Tips:
Salsa can be made in advance and stored in refrigerator until ready to cook chips.
Suggestion:
Serve as an appetizer or as a side dish with Mexican dishes. For a twist, try scooping tortilla chips into a little cottage cheese, then dip into salsa.
Salsa
Place all ingredients in food processor and process for about 10 seconds or until blended to desired consistency. If serving right away, simply pour salsa in a serving bowl. If you plan on serving salsa in a few hours or the next day, transfer to an air-tight container and store in refrigerator until ready to serve.
Tortilla Chips
If you have been refrigerating salsa, remove salsa from refrigerator before you start to cook tortilla chips to allow it to warm to room temperature and become more runny. (This salsa tends to thicken when cold.)
Cut tortillas into six triangle shapes. Note: The easiest way to do this is by cutting about 3-4 tortillas in half, then stack both piles of halves on top of each other. Cut the stack of halved tortillas into 3 triangle shapes. Continue this process until you have desired amount of tortilla triangles. Place tortilla triangles on a plate or in shallow bowl near cooking area. On another large plate or tray, stack about 3 paper towels and place near cooking area. Have a shaker of salt handy.
In a large skillet, add enough oil (about 1/4-inch deep) so tortilla triangles will easily move around while frying. Heat oil on high until hot. Add as many tortilla triangles as will fit into your skillet, allowing a little space in between each so they won't stick together. (Note: Slightly reduce heat if tortilla chips cook too fast for you to manage.) Constantly watch tortillas, because they will cook fast. As soon as the first sides turn golden, turn them over one at a time with a pair of tongs, then cook the other sides. Each side takes about 30 seconds, depending on your heat level.
Remove chips as soon as both sides have turned golden in color, and place on stack of paper towels to drain. While tortilla chips are still hot and wet from the oil, sprinkle salt to taste. Repeat salting each time you finish a new batch of tortilla chips.
Continue entire process until you have cooked as many chips as you intend to serve. Serve with salsa.