Parmesan Broccoli Balls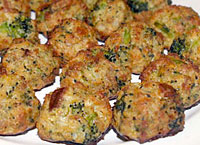 Suggestion:
Serve as an appetizer or snack, or as a fun accompaniment to a meal.
Ingredients
10 oz. chopped broccoli
1 6-oz. package dry stuffing mix
1/2 cup grated Parmesan cheese
1 medium onion, diced
6 eggs, beaten
3/4 cup butter, melted
1 teaspoon ground black pepper
1/2 teaspoon garlic salt
Directions
Steam broccoli until cooked but firm (about 5 minutes). As soon as a fork can slide through the broccoli easily, remove from
heat and cool. Don't overcook!

In a large bowl, mix broccoli, stuffing mix, Parmesan cheese, onion, eggs, butter, pepper, and garlic salt. Cover, and chill in the refrigerator approximately 1 hour, until moisture has been absorbed.

Preheat oven to 325° F. Roll the chilled mixture into 1 inch balls, and arrange on a medium baking sheet. Bake 15 to 20 minutes in the preheated oven, until browned. Note: Overcooking may dry them out, so watch them closely.