Jalapeno Artichoke Dip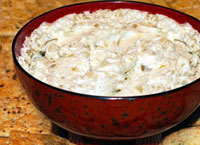 Yield:
16 servings or 2 cups
Tips:
You may also make this by hand, but a food processor is easier.
Suggestion:
Serve with various crackers, chips and/or fresh raw vegetables.
Ingredients
1 8-oz. package cream cheese, softened
1 cup freshly grated Parmesan cheese
4 pickled jalapeño peppers, seeded and finely chopped
1 6-oz. jar marinated artichoke hearts, drain, reserve marinade
2 teaspoons Tabasco green jalapeño sauce
Kosher or coarse salt and freshly ground black pepper to taste
Directions
Place Parmesan cheese and cream cheese in a food processor and process until blended. Transfer cheese mixture to a mixing bowl.

Place jalapeño peppers in food processor and process until chopped. Add drained artichoke hearts to jalapenos and
process just until coarsely chopped. Add artichoke/jalapeño mixture and the jalapeño sauce to cheese mixture. Mix well with a fork until well blended. Salt and pepper to taste. Refrigerate until ready to serve.