Ham and Cheese Honey Mustard Sliders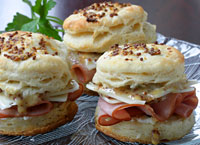 Cook Time:
10-12 minutes (for biscuits)
Tips:
Pre-packaged miniature biscuits or rolls may be used instead of baking your own biscuits, or refrigerated flaky biscuit (such as buttermilk or country biscuits) may be used; simply slice biscuits in half before baking. May also be used with deli-sliced chicken or turkey, and/or other deli-sliced cheeses, if desired.
Suggestion:
Perfect served at parties, holidays or any social gathering, or as a fun lunch or snack.
Ingredients
Biscuits

Flaky Buttermilk Biscuits (see recipe) or one 12-oz package of refrigerated buttermilk or country biscuits
1 to 1 1/2 tablespoons stone-ground mustard



Sandwich Filling

2 tablespoons chopped green onions (white and green parts)
1/4 cup (1/2 stick) butter, softened
20 slices deli-sliced ham (sandwich size)
10 slices pre-sliced square swiss cheese (sandwich size)



Honey Mustard Spread



3 tablespoons stone-ground-mustard
2 tablespoons mayonnaise
2 tablespoons honey
Directions
Biscuits
Follow recipe directions for
Flaky Buttermilk Biscuits
, yet use a 2-inch biscuit cutter (
instead of a 2 1/2-inch biscuit cutter
). (Alternatively, you can use a 12-oz package of regrigerated
buttermilk or country biscuits and cut each biscuit in half before placing in the oven.) Before placing in oven, using a table knife or the back of a small spoon, spread tops of biscuits lightly with stone ground mustard. Once baked, place biscuits on a cooling rack and allow iscuits to cool before assemblying into sliders.
Honey Mustard Spread
In a small bowl, combine stone-ground mustard, mayonnaise and honey and stir until well-blended.
Slider Assembly
Cut biscuits in halves. Spread butter and green onion mixture over tops and bottoms of biscuits. Fold 1 slice of ham in half then in half again and place on bottom biscuit slices. (Tip: For a decorative look, pinch a folded corner of the ham to create wavy edges.) Cut cheese slices into four pieces, then place 2 slices over folded ham slice, partially turning the second piece of cheese so corners do not match up (this creates a more decorative look). Spoon about 1 teaspoon of Honey Mustard Spread on top of cheese and top with top biscuit slice. Serve.