Ginger Pecan Cream Cheese Grapes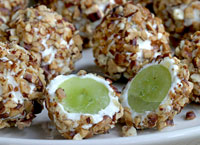 Yield:
30 grape appetizers
Cook Time:
5 minutes (for roasting pecans in the oven)
Tips:
May be made in advance and stored in refrigerator until ready to serve.
Suggestion:
Serving with
toothpicks
is recommended for easy taking.
Ingredients
6 oz. cream cheese, softened
2 tablespoons ifnely chopped crystallized ginger
30 green seedless grapes
1 cup pecans, toasted and finely chopped
Directions
(Note: See recipe description above to read how to roast pecans.) In a mixing bowl, blend together cream cheese and crystallized ginger with a fork until thoroughly combined. Place a sheet of waxed paper on a plate or small baking tray or dish. Measure 1 level teaspoon of the cream cheese mixture and wrap it around each grape, then roll in your palms (as you would when making meatballs) to evenly coat grape. Place each grape on waxed paper, then chill in refrigerator for about 15 minutes.


Place toasted and chopped pecans on a plate or small tray with sides or in a bowl. Once cream cheese-coated grapes have chilled, roll each grape in the pecans until evenly coated and return to waxed paper. Chill again until pecans seem firmly stuck to cream cheese. Serve (preferably with toothpicks).