Chili Cheese Balls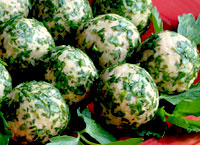 Yield:
40-45 cheese balls
Tips:
See recipe description for various coatings for cheese balls.
Suggestion:
Delicious as appetizers for parties, holidays or any events, or for snacking anytime.
Ingredients
2 cups grated Monterey jack cheese (8 oz.)
1 cup grated Mozzarella cheese (4 oz.)
1 3 oz. package cream cheese
1 tablespoon Dijon-style mustard
1 teaspoon Worcestershire sauce
1/4 teaspoon garlic powder
2 teaspoons chili powder
minced fresh flat-leaf parsley
Directions
In an electric mixer bowl (or you can use a
handheld electric mixer
), combine all 3 cheeses, mustard, Worcestershire sauce, garlic powder and chili powder. Beat on medium speed until well-blended. Shape into 1-inch balls, then roll in minced
parsley. Chill in refrigerator before serving. Serve with toothpicks for easy taking. May be eaten alone or served with assorted crackers.