Chile Cheese and Olive Squares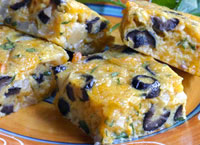 Tips:
See recipe description for various different ingredient substitution ideas.
Suggestion:
Serve as an appetizer or snack or as a breakfast or brunch side dish.
Ingredients
1 cup diced onion
1 teaspoon minced garlic
1 tablespoon oil
1/4 cup canned diced green chiles
2-3-oz. can sliced ripe black olives, drained
4 eggs, beaten
1/4 cup fine dry bread crumbs
1/4 teaspoon salt
1/8 teaspoon pepper
1/8 teaspoon (or 2-3 shakes) Tabasco or other hot pepper sauce
1 1/2 cups shredded sharp cheddar cheese
2 tablespoons finely chopped parsley
Directions
Preheat oven to 325° F.


In a skillet, heat oil and add onion and garlic. Sauté until tender (about 1-3 minutes). Set aside.

In a medium mixing bowl, combine remaining ingredients. Add onion and garlic and stir to combine.

Pour mixture into a greased 7 or 8-inch square baking pan. Bake for 20-30 minutes or until the center feels firm and a toothpick inserted into center comes out clean. Allow to cool for 3-5 minutes before cutting into 16 squares (about 1 1/2 to 2 inches each).