Chicken Strips with Honey Mustard Sauce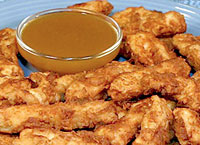 Tips:
If desired, make a double batch of the chicken fingers and store in the fridge, then use later in pita sandwiches with lettuce, tomato and honey mustard sauce.
Ingredients
Honey Mustard Sauce



1/2 cup honey
1/4 cup Dijon mustard



Chicken Strips

4 skinless, boneless chicken breasts (about 4 oz. each, totaling 1 lb.)
1 cup all purpose flour
1 teaspoon garlic powder
1 teaspoon onion powder
1 teaspoon salt
1/2 teaspoon pepper
1/2 cup milk
1 cup oil for frying
Directions
Whisk together in a small mixing bowl flour, garlic powder, onion powder, salt and pepper. Pour flour mixture into a plastic bag. Pour milk into a shallow bowl. Dip chicken strips in milk, then drop chicken strips into the bag and gently shake and move around to coat. Place coated chicken strips on a sheet of wax paper near cooking area. Place a few paper towels on a large plate and have ready near cooking area.

Heat about 1/4 inch of oil in a large nonstick skillet. When oil is hot, add about 1/3 of the chicken strips and cook until golden brown n all sides. When chicken strips are done, place on paper towels to drain. Cook 1/2 of remaining chicken strips, then the last remaining batch, immediately placing all cooked chicken strips on paper towels to drain after cooked.

Remove honey mustard sauce from refrigerator and heat in microwave or small saucepan until warm (not hot).