Cheese Coins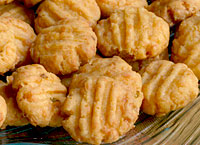 Yield:
6 1/2 dozen (about 78) appetizers
Tips:
Cheddar cheese or Monterey jack cheese may be used. or a combination of both.
Suggestion:
Great served as appetizers for cocktail parties and holiday parties, as kids party snacks, or snacks anytime!
Ingredients
1/2 cup butter, softened
2 cups shredded cheddar or Monterey Jack cheese
1/2 teaspoon dry mustard
1/2 teaspoon seasoned salt
2 teaspoons finely chopped canned green chiles
2 teaspoons minced pimiento
1/2 teaspoon Worcestershire sauce
1 1/4 cups flour
Directions
Preheat oven to 350° F.

Place butter, cheese, mustard, seasoned salt, green chiles, pimiento and Worcestershire in an electric mixer bowl and beat on medium speed until fully blended. Add flour and beat on low
to mix just until flour is incorporated. Remove mixer bowl and manipulate dough until it is stiff enough to form into a ball. Measure level teaspoonfuls of dough, then form into small balls. Place on an ungreased baking sheets about 1 inch apart. Press each ball lightly with the tines of a fork to about 3/16-inch thick. Bake for 15 mintues or until lightly browned. Serve hot or cold.