Cheese and Sausage Wonton Flowers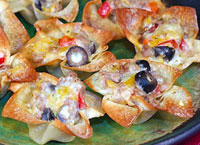 Yield:
About 3-4 dozen wonton flowers
Tips:
This recipe is best made with Chipotle Ranch Salad Dressing, Buttermilk Ranch Salad Dressing or bottled prepared ranch salad dressing.
Ingredients
2 cups cooked crumbled bulk sausage
1 1/2 cups grated sharp cheddar cheese
1 1/2 cups grated Monterey jack cheese
1 cup Chipotle Ranch Salad Dressing or Buttermilk Ranch Salad Dressing (or prepared)
1 2.25-oz. can sliced ripe olives
1/2 cup diced red bell pepper
1 package wonton wrappers
Directions
Preheat oven to 350° F.

Add cooked sausage to a large mixing bowl and blot dry with paper towels. Add cheeses, salad dressing, olives and red pepper. Mix gently to combine. Set aside.


Lightly grease a mini (or regular size if you don't have a mini-sized) muffin pan. One at a time, place wontons into each cup, gently pressing down and wrinkling sides to form flower shapes (don't worry if shapes are not all the same - the variety of shapes is part of the beauty of this appetizer!). Brush outer surfaces of wontons with oil and bake for 5 minutes or until beginning to brown on edges.

Remove wontons from muffin pan and place on greased cookie or baking sheet. Fill each wonton with sausage and cheese mixture and return to oven for another 5 minutes or until exposed edges are golden brown.