Cheese and Sausage Croissant Bites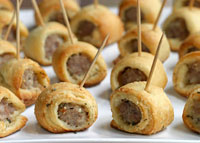 Cook Time:
11 to 13 minutes
Tips:
May be prepared in advance and stored in refrigerator in a covered container for a few hours until ready to bake. If preferred, you can also make homemade croissant dough (see recipe description for details).
Suggestion:
Serve as an appetizer for breakfast, brunch or any occasion.
Ingredients
1 8-oz. can refrigerated crescent rolls
1 tablespoon melted butter
1/4 cup grated Parmesan cheese
1 teaspoon dried oregano
8 brown and serve sausages (uncooked)
Directions
Preheat oven to 375° F (for convection ovens, preheat to 350° F.).

Separate crescent dough into 4 rectangles on a lightly floured surface (to prevent dough from sticking to work surface). Pinch and press diagonal perforations together to seal. Brush each rectangle with melted butter. In a small mixing bowl, combine cheese and oregano, then sprinkle over each rectangle.

Cut each rectangle crosswise to form 2 squares (pizza cutters
work well for cutting dough). Place a sausage link on the edge of each square, then roll up, adjusting position to make sure seam is on the bottom.

Using a sharp knife, cut each rolled-up square into 4 pieces, then secure each piece with a toothpick. Spray a baking sheet with nonstick spray. Place croissant bites cut-side down on baking sheet (about 1 inch apart) and bake for 10-13 minutes or until croissant bites turn a light golden brown (oven temperatures may vary, so watch closely towards the last 5 minutes of baking and adjust baking time as needed). Leave toothpicks in croissant bites so guests can easily serve themselves.