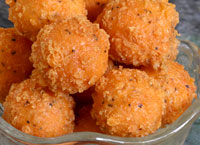 Yield:
About 24 cheese balls
Cook Time:
About 2 minutes per batch
Tips:
Fry cheese balls in batches, allowing enough room in oil for cheese balls to move around while cooking.
Suggestion:
Serve as a fun and easy finger food appetizer for parties or any other event.
In a medium
mixing bowl
using an
electric hand mixer
, beat egg white until stiff peaks form. Set aside.
Heat enough oil in a deep fryer or heavy saucepan to cover cheese balls (about 1 1/2 to 2 inches deep) to 375° F.
While oil is heating, in a medium
mixing bowl
, combine cheese, flour, salt and pepper, mixing until evenly combined. Fold cheese and flour mixture into the stiffly beaten egg white, folding until evenly blended. Shape mixture into small balls (about 3/4-inch in diameter) or other small shapes of similar size. Carefully immerse cheese balls in batches into hot oil and fry until golden and crispy (about 2 minutes), making sure there is enough room for cheese balls to move around while cooking. Remove cheese balls with a slotted metal spoon or other slotted utensil and place on a few stacked paper towels arranged on a plate or tray to drain. Allow to cool for a minute or so, then serve.