Black Bean & Corn Salsa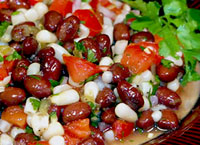 Tips:
May be made a day in advance and stored in refrigerator.
Suggestion:
Serve as a salsa with pita chips, corn chips or tortilla chips, or as a side dish (or use your imagnation!).
Ingredients
1 15-oz. can corn kernels
1 15-oz. can black beans
1 tomato, chopped
1/4 cup chopped red onion
1/4 cup chopped red bell pepper
1 4-oz. can chopped green chiles
3 tablespoons finely chopped fresh cilantro
4 tablespoons lime juice
1/2 teaspoon salt
1/8 teaspoon ground black pepper
Directions
In a medium mixing bowl, add all ingredients in order listed and toss gently to combine. Store in refrigerator for 1 hour up to overnight.